Boat Accessory Bundle Kit
Regular price $431.90 $215.95 Sale
Boat Accessory Bundle Kit
Regular price $431.90 $215.95 Sale
CUSTOMER SUBMITTED PHOTOS
Customer Reviews
Write a Review
Ask a Question
02/01/2023
Bruce G.

United States
Great purchase!
Other places a bundle this complete would cost twice as much, and for half the quality. Extremely pleased.
11/15/2022
Ernie M.

United States
Excellent bundle kit!
Everything you need to setup your boat for the water. The wheels are built to handle the boat easily and also resist corrosion from the salt water. Installation was easy. The seat has good padding, lots of pockets, and another large pocket area for storage. Very well made and looks to last years. The cover, anchor, and the pump are also well made. Originally wanted the wheels only, but the bundle kit price made much more sense. I highly recommended to new boat owners!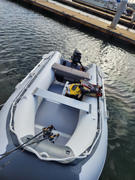 09/19/2022
David W.

United States
Fast Shipping
Super fast shipping on in stock items! The quality of the items is top notch for a reasonable deal. You always get what you pay for, so why get cheap stuff? Buy something that will last, and buy it from Newport Vessels!
08/16/2022
Marites T.

United States
Transom Wheels in bundle
Excellent promo deal! The package came quick. With the transom wheels installed to our Newport Vessel Baja, it's now easier to move around even with just one person. See how we installed it. https://youtu.be/xK6swyf2rCM
08/16/2022
Steven R.

United States
Seascape Purchase
My new Seascape arrived within 1 week of ordering, including accessory kit. All looks good and works well after a couple of sea trials with my electric outboard. Love the launch wheels, although I elimnated the thick rubber pad, as that seems to have no purpose whatsoever. My only complaint is the location of the fill port for the forward section - it is located near the bottom of the tube such that the only way to attach the pump to it is to completely deflate the air floor. Not sure if this is a design flaw, or a manufacturing flaw. If it were located the same as the fill ports for the side sections, all would be good. Please consider.