FOW Episode 5
At Newport, we're about off-the-beaten-path adventure and exploration. We're about connecting with nature. We know the deeper into the drink you go, the more the distractions of land fade away. There's a special feeling about being on a small vessel, immersed on a big blue ocean, testing your skill against tackle-busting fish.
...
FOW Episode 4
Summertime can be the hardest time of the year to find consistent fishing, but there's some techniques that really pay off.  Dropshot is one of those techniques that can truly take you from bummed out to fished out.  
...
FOW Episode 3
Nate Winicki shows us how to unlock the summertime spotted bay bass bite on San Diego Bay. Nate instructs on using the NT300 to find fish in the big bay, and talks tactics and techniques for catching spotted bay bass in both quality and numbers.
...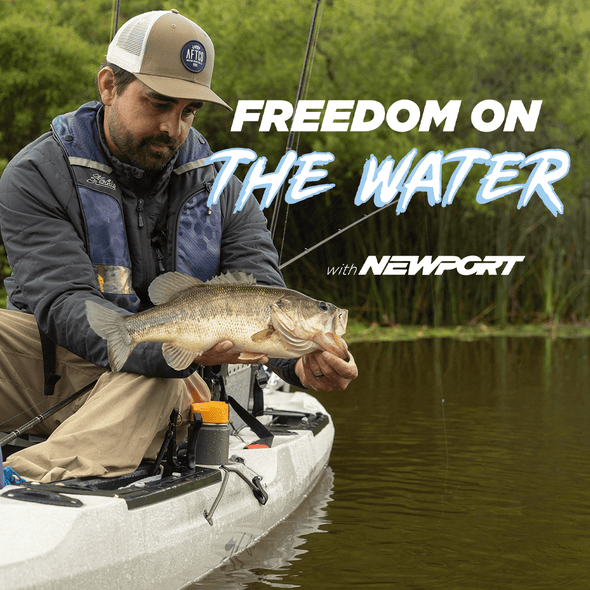 FOW Episode 2
Howie shares technical tips for using Newport electric motors to approach freshwater lakes for largemouth bass. Howie covers using a spinner bait as a search tool, and talks specifics on throttle settings for achieving an ideal speed when fishing a bank.
...
FOW Episode 1
Follow along with Howie, from Newport as he tackles a Southern California saltwater tidal fishery for some reel searing bat ray action and fun saltwater bass. Howie gives tips on how to use the motor to your advantage in heavy current, and how he uses the motor to set up on fishing spots.
...
Newport Nation
Marshall S, Verified Buyer
I have been Fishing Electric Only Reservoirs for years using atleast a dozen different electric propulsion motors.
This is the fastest and energy efficient Boat motor I've ever used. I had my 16' V-hull that weighs around 1,000 Pounds up to 6MPH with ease. I highly recommend this motor especially since the price point is the lowest on the market I've seen!
Michael B, Verified Buyer
This is a great motor
I have had my NK 180S just over a month so far and I LOVE this thing. Very affordable for what you get compared to the competition and with the flexibility with the batteries you can save or spend what you need to for them. I have used it on 6 trips and it is a trooper! I had it going 6mph at one point. This is definitely a game changer and I highly recommend it.

One other note is the support is top notch! Every question I asked I got a reply super fast and very professional on top of that. I even got a phone call one day just so he could make sure I got the info I needed.

Don't miss out on this motor you will love it too!
Erik D, Verified Buyer
My Retirement Gift
I purchased the NK300 and the 36 volt 40 AH Battery as a retirement gift for myself to mount on my Feelfree Lure 13.5 V2. I'm so happy with my purchase. What an amazing combination. Great customer service and the install went perfect. A shout out to Tray at Innovative Sportsman for the custom mounting bracket. I would highly recommend this pair to anyone. I'm more than pleased with this purchase.
Parag P, Verified Buyer
Dinghy power
Outstanding service and delivery
Love the motor on my dinghy.
Quiet and remarkably powerful.